Quiz night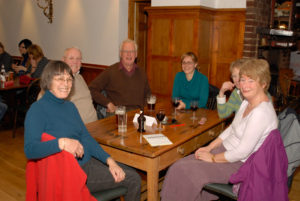 Members enjoyed a social evening in the Abbotsford Hotel.
French Links
Le Pincerais 2014
In 1986, a link with Le Pincerais choir from St Germain en Laye near Paris was formed and this resulted in reciprocal visits over a number of years until 2003. After several years of no contact Ayr Choral Union has renewed its link with Le Pincerais.
In early June 2014 a group of at least 30 singers and four non-singers, plus our conductor, Gerry and accompanist, Morag travelled to France. We were generously hosted by members of Le Pincerais, who showed us some of the sites of St Germain, including the fantastic chateau and treated us to amazing meals – picnics, barbecues and a reception and buffet supper in the town twinning centre in St Germain, followed by the not to be missed community singing. We performed a successful and fun joint concert in St Germain.
Le Pincerais 2016
In June this year a group of 25 singers from Pincerais plus 7 non-singers arrived in Ayr for a weekend of socialising, a guided visit to Dumfries House, rehearsals and a fantastic joint performance of varied short pieces in St Giles Cathedral, Royal Mile, Edinburgh as part of their St Giles at 6 series.
Shared dinners, an evening supper with singing and exploring Edinburgh gave lots of opportunities for getting to know one another better – including other Ayr Choral members!
Concert in St Giles Cathedral 2016 – St Giles at 6
On Sunday morning, 22nd May, a bus load of folk from Ayr Choral Union and Le Pincerais choir, St Germain en Laye left Ayr for Edinburgh. On arrival we all dispersed to join the other tourist crowds to see the sites, have lunch and go shopping.
At 4pm we met up at St Giles Cathedral, which was surrounded by Hibs supporters, the team bus and the cup winning team!  While they all sang outside, we rehearsed in the beautiful surroundings of St Giles.
After a short break for tea and biscuits, our joint choir was welcomed by a large and enthusiastic audience, including friends and family from Ayr, Edinburgh and a the airts. From 6 – 6.50 p.m we sang a number of short pieces in English, and French, all of which were warmly received.
Singing in the cathedral was a fantastic experience due to great acoustics and a wonderful atmosphere. It would be great to do it again – and we plan to make a date for next year.
Myriade 2012
In May 2012, a group of singers from another choir in Poissy near St Germain-en-Laye, Myriade visited Ayr for the first time and were hosted by Ayr Choral members and friends. They performed a very successful concert of the Faure Requiem and Cantique de Jean Racine in Holy Trinity church, joined by Ayr Choral members. Visits were arranged to Culzean Castle and Glasgow, and much fun was had at a pot luck supper followed by lots of community singing.
Myriade 2015
An invitation was issued for us to visit members of Myriade in May 2015. Once again a group of 30 singers and non singers from Ayr Choral were treated to a weekend of wonderful meals, receptions, lots of opportunities for singing, plus tours of local sights. After rehearsals, a superb concert of Mozart's Requiem accompanied by string quartet was given to an enthusiastic response from a large audience. The concert was followed by wine and snacks, and Ayr visitors had the opportunity to see a fascinating Son et Lumiere in the Collegiale Notre Dame church in Poissy.