St John Passion by J. S. Bach
Sunday 3rd April 2022.
Venue: Ayr Town Hall, New Bridge Street, Ayr KA7 1JX 
Past Concerts
Christmas with Ayr Choral 2021  
Sunday 12th December 7.30pm  Venue: Ayr Town Hall, New Bridge Street, Ayr KA7 1JX
On the programme this year Ayr Choral will perform the joyful and heavenly piece Vom Himmel Hoch (From heaven above to earth I come) by Felix Mendelssohn. The choir rehearsed this piece last year online and look forward to performing it live this year. Included in the wide variety of Christmas music will be the beautiful O Magnum Mysterium by Morten Lauridsen and the Ceremony of Carols, with harp accompaniment, by Benjamin Britten. The joyfulness will continue with lots of your traditional Christmas favourites.
Ayr Choral's fabulous conductor Andrew McTaggart kept the choir goingthroughout lockdown with fun and vigour using the wonders of online technology. However, Christmas will be very special as we will be singing live with a real audience. 
Andrew will be assisted by Nils Meier our Assistant Conductor.
The soloists will be Soprano Charlie Drummond, former Scottish Opera Emerging Artist and graduate of the London Opera Studio, and Baritone Christopher Nairne, soloist and ensemble member at Opera North. Piano and organ accompanist will be Andrew Forbes, Director of Music at Glasgow Cathedral.
Tickets are available from members of Ayr Choral, the Gaiety Box Office, and online at www.ayrchoralunion.net.   
Unfortunately there will be no October concert in 2021. We are having a "Come and Sing Gloria" in its place.
Ayr Choral "Come and Sing"
Sunday 31st October 2pm
Venue: Castlehill Church 1 Old Hillfoot Road, Ayr KA7 3LW
Vivaldi Gloria
Gloria is one of the most popular and joyous choral favourites. Composed by Vivaldi, the "Red Priest" sometime in the early 1700s for girls from the Ospedale della Pieta in Venice, the music was sadly lost until the 1920s when it was found under a pile of Vivaldi's manuscripts. The original manuscript wasn't published until 1957 since when it has become a perennial favourite. Gloria's simple settings with distinctive melodies and dancing rhythms make for an ideal relaxing "Come and Sing" that will have you humming along for days!
Ayr Choral's dynamic Musical Director Andrew McTaggart, who has invigorated the choir through the last 19 months in various online events, will lead the afternoon's singing, accompanied by Andrew Forbes, Director of Music at Glasgow Cathedral. The "sing through" will feature soloists from the Royal Conservatoire of Scotland.
Sadly due to limited space and restricted seating arrangements, there will be no audience. Singers will require to be masked within the church environment, but will be spaced widely, allowing masks to be removed when singing. A detailed risk assessment and guidance will be sent to all those applying, and updated as necessary. Parking is readily available near the church.
Fingers crossed for Christmas.
"Christmas with Ayr Choral"- Ayr Town Hall
Sunday 15th December 2019
Ayr Choral's special guests this year are again the outstanding Newmilns and Galston Brass Band. The choir will present a wide range of music for Christmas including Rutter's Gloria, a selection of Rachmaninov's Vespers, the timeless O Holy Night – voted the Nation's favourite carol by Classic FM in 2018, and on to everyone's Christmas favourites with a spectacular arrangement for brass band and choir by popular local composer and arranger Gordon Cree. Our Soprano soloist is rising star Ellen Mawhinney. The choir is conducted by our Musical Director Andrew McTaggart, ably assisted by our Assistant Conductor Matthew McKinney. Tickets are available from members, the Gaiety Box Office and on line at www.ayrchoralunion.net
"Into the Light"- Ayr Town Hall
Sunday 27th October 2019
Ayr Choral's October concert titled "Into the Light" was a musical exploration of the themes of Darkness and Light, night and day. The programme featured a range of reflective, serene and joyous Choral music from Europe and America, and across the centuries. This included Fauré's familiar and much loved Requiem, O Nata Lux by Tallis, Rameau's La Nuit which was made famous by the film Les Choristes, and Jonathan Dove's powerful Seek Him that Maketh the Seven Stars. The concert moved to a joyful conclusion with Sir James MacMillan's celebratory O Radiant Dawn and finally Randall Thompson's Alleluia. The concert was conducted by Ayr Choral's Musical Director Andrew McTaggart with soloists Charlie Drummond, Soprano, and Arthur Bruce, Baritone. The choir was accompanied with Andrew Forbes on organ and string quintet "Ayr Choral Players".
A Feast of Choral Music- St. Mary's Cathedral, Glasgow
Saturday 8th June 2019
A large group of Ayr Choral members conducted by Andrew Mactaggart sang a varied programme to a good audience in the the atmospheric setting of St Mary;s Cathedral in Glasgow for their Summer tour as part of the West End Festival. It was thrilling to sing in this ancient and beautiful building and we were invited to return at any time.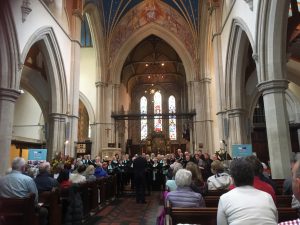 Music of the Masters 24th March 2019
Ayr Choral's Spring Concert featured choral music on a grand scale, with a performance featuring two familiar and much loved compositions for choir and orchestra – Mozart's Requiem and Bach's Magnificat in D. The Choir was joined by a professional orchestra, and five soloists – Ellen Mawhinney and Jessica Leary (Sopranos), Sioned Gwen Davies (Mezzo Soprano), Ted Black (Tenor) and Orlando Mason (Bass). This spectacular programme, with the celebratory Magnificat and the dramatic and emotional whirlwind of the Mozart, was conducted by our eminent Musical Director, Andrew McTaggart.
Christmas with Ayr Choral
Sunday 16th December 2018
Christmas with Ayr Choral used a selection of music from Bach's Christmas Oratorio and Vaughan William' Fantasia on Christmas Carols to link with both our October concert (Dona Nobis Pacem) and our Spring concert 2019 when we will perform the Bach Magnificat. Other music included the beautiful Allan Bullard Scots Nativity, Rutter's Christmas Lullaby, Whitacre's Glow, and a splendid Christmas Medley, arranged by Gordon Cree and sung with our special guests the Newmilns and Galston Brass Band. The Band also had their own contributions to a very eclectic programme! Our Baritone soloist was Colin Murray , and the concert was conducted by our Musical Director, Andrew McTaggart.
For the Fallen
Sunday 28th October 2018
Greater Love hath no man John Ireland
Dona Nobis Pacem Ralph Vaughan Wiliams
Eternal Light Howard Goodall
Marking the centenary of the end of World War 1, the concert will be a mix of both dramatic and beautiful music with a direct link to wartime in Britain. Soloists will be Catriona Hewitson and Graham McCusker, and accompanists will be Andrew Forbes on piano and Andrew Huggan, cellist.
Saturday 26th May 2018
Ayr Choral members conducted by Gerry Doherty sang a varied programme to a select but enthusiastic audience in Paisley Abbey for their Saturday lunchtime concert. It was thrilling to sing in this ancient and beautiful building and we were invited to return at any time!
There was a coffee morning with home baking in Place of Paisley, adjoining the Abbey, which many of the singers enjoyed and appreciated.
Sunday 25th March 2018 in Ayr Town Hall at 7.30 pm
As part of a worldwide celebration of the 100th anniversary of Leonard Bernstein's birth, we sang the Chichester Psalms – an exhilarating work, accompanied by the City of Glasgow Symphony Orchestra, including brilliant percussion and wonderful wind playing. At his last major concert as conductor, Gerry Doherty led us in an exciting and spirited rendering of several psalms in Hebrew, commissioned by Chichester Cathedral in the 1960's. Daniel Cook, a boy soprano with the RSNO children's chorus sang beautifully and our quartet of soloists included Charlie Drummond, soprano, Rosamund MacDonald, mezzo, Ted Black, tenor, and Connor Smith, baritone. We ended the first half with two versions of the 23rd Psalm by John Rutter and the familiar theme to the Vicar of Dibley by Howard Goodall. In the second half we presented John Rutter's Magnificat, a joyful work enjoyed by choir and audience, who received the whole programme enthusiastically. Our soloist Charlie Drummond created a wonderful atmosphere in the two quieter movements. In a presentation Gerry was thanked for his fantastic contribution to the choir over the past 17 years. He reminisced about works we had sung, people he had worked with, and the sense of satisfaction and pleasure he had had working with the choir. A great evening of celebration for everyone.
Sunday 17th December 2017 in Ayr Town Hall at 7.30 pm.
Christmas with Ayr Choral
An almost full house enjoyed our presentation of familiar and new Christmas songs and carols, accompanied by well known local pianist and organist Gordon Cree. Particular hits were Tchaikovsky's poignant Crown of Roses, In Winter by Texan composer, Victor C Johnson and Scots Nativity by Alan Bullard. The audience made the most of their opportunity to join in the four traditional carols.
Newmilns and Galston Brass Band played two sets which were enthusiastically applauded, and joined the choir for the finale of Have yourself a merry little Christmas and John Rutter's The very best time of year – Santa hats and tinsel provided the final festive touch.
Andy McTaggart, our associate conductor, conducted his first concert with us and Connor Smith led us in two carols, Sleep little baby sleep and Lullaby my Jesus.
Sunday 29th October 2017 in Ayr Town Hall at 7.30 pm.
Choral Music of The Americas
An exciting and melodic evening of music from the early 17th century by De Padilla (Mexico), to music from the past 100 years by Aaron Copland, Randall Thompson, Eric Whitacre, Morten Lauridsen and George Gershwin (all USA) and Michael Tippett's Spirituals from A Child of our Time (UK – 1939-41). Soloists were Hazel McBain – Mezzo Soprano and Whitaker Mills – Baritone; accompanist – Ed Cohen. We were led by our conductor, Gerard Doherty.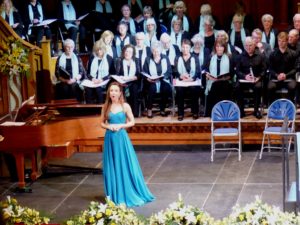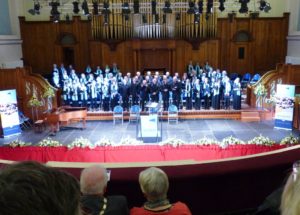 St Giles at 6 on Sunday 21st May 2017
A large and enthusiastic audience heard A Choral Tapestry with works from Mozart to MacMillan, performed by around 40 members of the choir in St Giles Cathedral, Edinburgh. The beautiful sanctuary echoed with excerpts from Vivaldi's Gloria and Brahms' German Requiem, followed by O Radiant Dawn and Quas ego by MacMillan; three pieces on the Virgin included works by Mozart, Bardos and Dubra, and the concert concluded with Rachmaninov's Bogoroditse, Roberton's Iona Boat Song, and Rutter's Gaelic Blessing. As an encore, the choir sang Ye Banks and Braes o Bonnie Doon, by Burns. Audience members were generous in their praise of the choice of programme and performance. Two choral members were stopped by a couple from South Carolina, USA who had really enjoyed the concert, and hoped to hear us sing again!
Spring Concert
Sunday 2nd April 2017 at 7.30 pm in Ayr Town Hall
Brahms' German Requiem and Schicksalslied (Song of Destiny)
Soloists: Nadine Livingstone (Soprano) and Phil Gault (Baritone)
Christmas music including Britten's Ceremony of Carols
Special Guests: Sharron Griffiths (harpist) and Wellington School Chamber Choir
30th October 2016 – 140th Anniversary Concert
Spring 2016 – Dvorak Requiem
Christmas 2015 – Carols with South Ayrshire Jazz Band
Autumn 2015 – Pergolesi Magnificat
MacMillan Magnificat
Excerpts from Messiah
Spring 2015 – Bach St Matthew Passion
Christmas 2014 – Carols with Forehill Primary School Choir
Autumn 2014 – Mozart Coronation Mass
Gounod St Cecilia Mass
Spring 2014 – Jenkins Armed Man
Poulenc Gloria
Christmas 2013 – Rutter Gloria
Carols with ensemble Scots Brass
Autumn 2013 – Faure Requiem
Goodall Eternal Light
Spring 2013 – Verdi Requiem