Conductor – Andrew McTaggart
Members of Ayr Choral are looking forward to an exciting season ahead with Musical Director Andrew McTaggart.
Andrew is a baritone and choral conductor passionate about seeing choral singing strengthened throughout Scotland. He studied conducting whilst at the Royal Conservatoire of Scotland with Alasdair Mitchell and Michael Bawtree. Andrew is currently the Musical Director of Ayr Choral Union, Greenock Philharmonic Choir and Chorus Master of the Cumnock Tryst Festival Chorus. He was the founder and a director of Caledonian Voices and was the Musical Director of Troon Chorus from August 2005 to April 2012. Andrew spent 10 years singing in the National Youth Choir of Scotland (NYCoS) and then went to be Assistant in training to Christopher Bell. He was the director of East Renfrewshire Boys Choir during its first year and is the Conductor of the Junior Corps of the NYCoS Boys Choir and is currently the coach of the NYCoS Training Choir.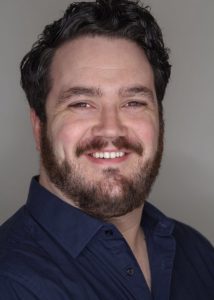 As a baritone, Andrew regularly performs throughout Scotland. He will return to Opera Bohemia to perform the title role in Mozart's Marriage of Figaro which will come to the Ayr Gaiety Theatre on the 19th August 2020. Andrew will also release his debut album, A Landscape of Song with a recital for Ayr Music Club on the 17th October 2020. The CD and recital will celebrate English Song which
Andrew will perform alongside pianist Timothy Dean.
Accompanist – Morag Walton
Morag graduated with a B. Mus. (Hons) at Glasgow University in 1969, followed by three and a half years teaching music in Ayr and Prestwick Academies.
With a young family, she started teaching piano at home in 1979, developing the talents of many local young people to a very high standard.
She initially joined ACU in 1971 for one concert and returned to the alto section in 1975. She has worked with four conductors as singer and accompanist – William Bowie, Stewart Linton, Hamish Good, and Gerry Doherty.
In 1994 Morag was appointed accompanist, showing considerable skill and an intuitive talent for reading the conductor's mind!
She has been a church organist and choir leader since 1987 at Castlehill and subsequently St Leonard's churches in Ayr.
For three years Morag led an all-female unaccompanied group, 'Serenata', which performed locally for various charities.
In all her roles Morag has written her own arrangements of many choir pieces, including for carols sung by Ayr Choral.
Assistant Conductor – Nils Meier