Next Concert
Sunday 17th December 2017 in Ayr Town Hall at 7.30 pm.
Christmas with Ayr Choral
An evening of songs and carols, traditional and modern, accompanied by well known local pianist and organist Gordon Cree. Newmilns and Galston Brass Band will provide great entertainment in their own inimitable style.
Andy McTaggart, our associate conductor, will conduct his first concert with us.
Past Concerts
Sunday 29th October 2017 in Ayr Town Hall at 7.30 pm.
Choral Music of The Americas
An exciting and melodic evening of music from  the early 17th century by De Padilla (Mexico), to music from the past 100 years by Aaron Copland, Randall Thompson, Eric Whitacre, Morten Lauridsen and George Gershwin (all USA) and Michael Tippett's Spirituals from A Child of our Time (UK – 1939-41). Soloists were Hazel McBain  – Mezzo Soprano and Whitaker Mills – Baritone; accompanist – Ed Cohen. We were led by our conductor, Gerard Doherty.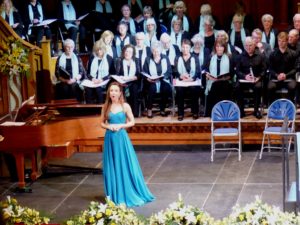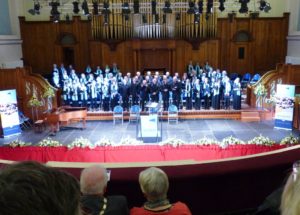 St Giles at 6 on Sunday 21st May 2017
A large and enthusiastic audience heard A Choral Tapestry with works from Mozart to MacMillan, performed by around 40 members of the choir in St Giles Cathedral, Edinburgh. The beautiful sanctuary echoed with excerpts from Vivaldi's Gloria and Brahms' German Requiem, followed by O Radiant Dawn and Quas ego by MacMillan; three pieces on the Virgin included works by Mozart, Bardos and Dubra, and the concert concluded with Rachmaninov's Bogoroditse, Roberton's Iona Boat Song, and Rutter's Gaelic Blessing. As an encore, the choir sang Ye Banks and Braes o Bonnie Doon, by Burns. Audience members were generous in their praise of the choice of programme and performance. Two choral members were stopped by a couple from South Carolina, USA who had really enjoyed the concert, and hoped to hear us sing again!
Spring Concert
Sunday 2nd April 2017 at 7.30 pm in Ayr Town Hall
Brahms' German Requiem and Schicksalslied (Song of Destiny)
Soloists: Nadine Livingstone (Soprano) and Phil Gault (Baritone)
Christmas music including Britten's Ceremony of Carols
Special Guests: Sharron Griffiths (harpist) and Wellington School Chamber Choir
30th October 2016 – 140th Anniversary Concert
Spring 2016 – Dvorak Requiem
Christmas 2015 – Carols with South Ayrshire Jazz Band
Autumn 2015 – Pergolesi Magnificat
MacMillan Magnificat
Excerpts from Messiah
Spring 2015 – Bach St Matthew Passion
Christmas 2014 – Carols with Forehill Primary School Choir
Autumn 2014 – Mozart Coronation Mass
Gounod St Cecilia Mass
Spring 2014 – Jenkins Armed Man
Poulenc Gloria
Christmas 2013 – Rutter Gloria
Carols with ensemble Scots Brass
Autumn 2013 – Faure Requiem
Goodall Eternal Light
Spring 2013 – Verdi Requiem