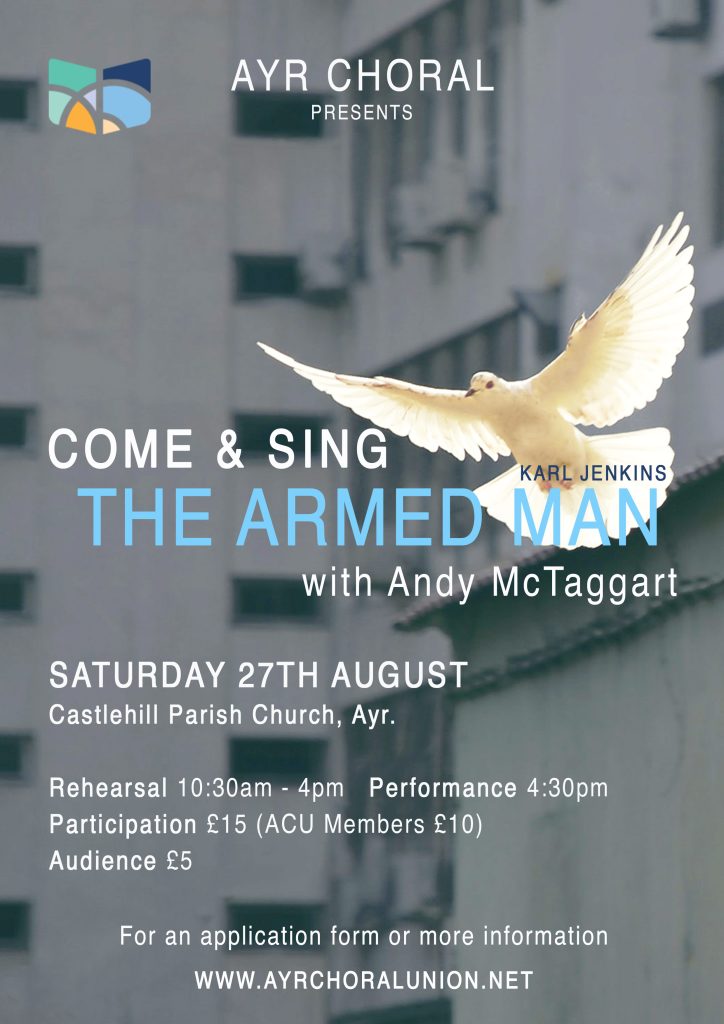 Link to application form
Ayr Choral are launching their exciting 2022- 23 Season with a warm invitation to a day of singing one of the most performed and loved choral works. Come along to Castlehill Church in Ayr on 27th August to sing The Armed Man (A Mass for Peace) by Karl Jenkins, led by the inimitable Andrew McTaggart and joined by soprano soloist Caitlin MacKenzie and piano accompanist Andrew Brown. Whether you don't know the work, or whether you know it backwards, this will be an informal day with plenty of time to catch up with friends as well as experiencing some amazing music!
Written in 2000 and performed more than 2750 times in over 50 countries, the piece was commissioned by the Royal Armouries Museum to commemorate the victims of the Kosovo Crisis. This contemporary Mass incorporates many different musical styles and moods and uses both sacred and secular texts from serene to dramatically intense.
To take part please complete the application form on our website and return to: ayrchoral@outlook.com.
Information about the day
Saturday 27th August, Castlehill Parish Church,1 Old Hillfoot Road Ayr, KA7 3LW.
Rehearsal 10.30am – 4pm. Registration from 10.00am
Participants £15 (ACU Members £10)
Performance 4.30pm – 5.30pm. Audience admission £5 at the door from 4pm.
Refreshments will be provided including home baking – bring your own lunch.
Onstreet Parking is available in the area around the Church, and it is around 15 minutes walk from Ayr Station.
Dress informal – no dress code – whatever you feel comfortable in!
Come And Sing "The Armed Man"