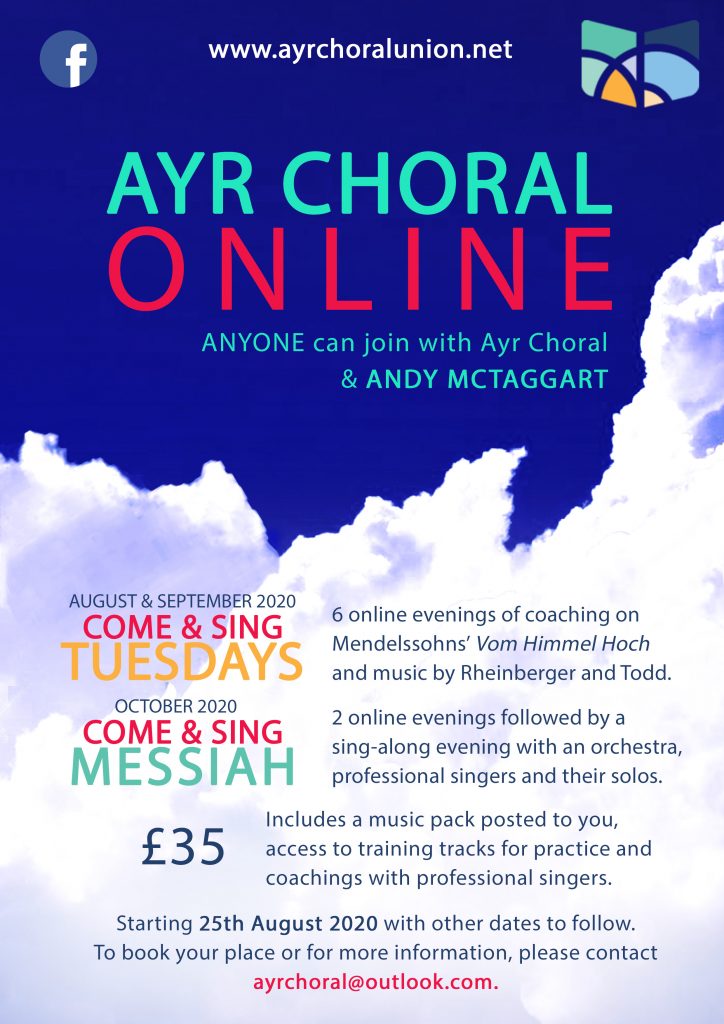 In May, Ayr Choral launched three virtual rehearsals online, using Zoom, attended by over 100 singers and led by our enthusiastic and ingenious Musical Director Andrew McTaggart.
Feedback was very positive "I loved every minute….great fun….good to see everyone…therapeutic!"

Ayr Choral will be continuing to hold online rehearsals for the first part of Season 2020-21. The ongoing effects and restrictions of Covid-19 mean that our best option is to continue to rehearse and perform online – meeting the needs of our members , and strengthening the singing community wherever people are – until circumstances allow us to sing together and perform safely in person for our brilliant audiences.
Online Zoom Rehearsals will be on Tuesday evenings at 7.30 pm starting on August 25th. Ayr Choral members will receive all the necessary information, with a special (non virtual) pack of music and rehearsal support materials. Help and advice will be available for using Zoom confidently. There will be 6 online rehearsals which will include singing hints and tips, fun warm-ups and rounds, and works by Mendelssohn, Rheinberger and Will Todd, plus 2 rehearsals for Handel's Messiah followed by a virtual Sing Along evening with orchestra and professional soloists at the end of October.

We would also warmly welcome any guest singers, at a cost of £35, which includes 8 rehearsals, a music pack, access to training tracks and coaching with professional singers
If you are still interested, please download and return the registration form below by email to ayrchoral@outlook.com.